Cantaloupe Prelude Sheer Wire Edge Ribbon

Cantaloupe prelude sheer has smooth feel and liquid sheer finish and lightweight wire edge and is available in 5/8, 1 1/2 and 2 1/2 inch widths. This Offray sheer ribbon has become one the favorites among crafters, designers and decorators of all trades.

• Polyester
• Wired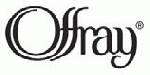 The colors in the picture may vary slightly from the actual product color.