Black Oxford Stripe Mono-filament Edge Ribbon

Black pin stripes adorn this white satin ribbon; making it a favorite in hair bows, gift wrapping, floral arrangements, garment trims, scrapbooks, crafts or for any decorative project. Manufactured by Offray you can be assured that you will be receiving a high quality ribbon.

• 100% Polyester
• Mono-filament Edge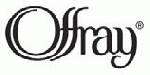 The colors in the picture may vary slightly from the actual product color.